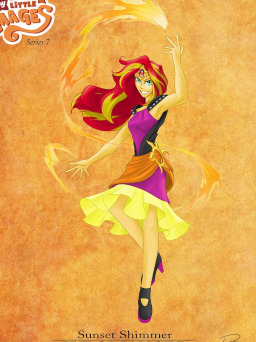 Source
This story is a sequel to My Little Mages: Enchanted Enigma Elixir
---
It has been less than twenty-four hours since Twilight Sparkle completed Star Swirl the Great's unfinished magic and she is at the top of the world. She has recently been crowned a princess and has ascended into a demigod. All of Mystica, it's protectorates, tributaries and allies have come to Chantalot to affirm their fidelity and loyalty to the new princess. However, in the ocean of well-wishers, one in the crowd plots ill for Twilight.
Deep in the night, this one makes her move, as a former student of Celestia and her own band of cohorts is able to steal the all but the Elements of Honesty and losing the Element of Magic through a magical mirror in the process.
Now, Twilight and her friends have to venture through the mirror after the thieves, reclaim the stolen Elements of Generosity, Laughter, Loyalty, and Kindness and find the lost Element of Magic all the while keeping the remaining Element they have before the former mentee of Celestia and her mentee force the Elements to attune to them. To make matters worse they have to wait a week before they can use the mirror to return to Chantalot.
Can Twilight et al reclaim the Elements? Or Well the Elements of Harmony be forced to have new bearers?
This AU's take on 'Equestria Girls' taking elements from 'The Friendship Games'.
Cover art by Didj and used with permission.
Chapters (9)