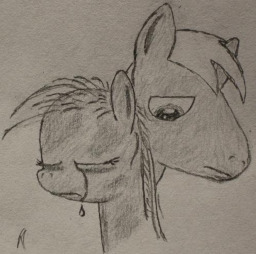 Big Macintosh has fallen hard for the pretty blond mare. When she is forced into a fight for her life, he sticks by her faithfully, but keeping the promises he's made will be an even tougher battle.
Updated for Equestria Daily! Yay, made 6-star!
Please vote and leave lots of comments! I love reading what you have to say!
Written for a sadfic contest (I won!); the plot is in honor of my mother-in-law, who wasn't so lucky, and I suspect wouldn't actually appreciate inspiring a story about ponies.
Chapters (1)