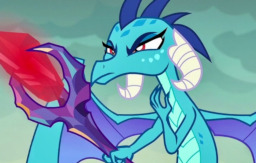 Source
A dragon is dying; a dragon who stood for so much, and was loved by many. Gathered around her death bed, the dragon's family grieve as they realise the future they face without her. A desolate and bleak future.
A father: who is to lose the love of his life and now has the responsibility to raise a child all on his own.
And a youngling female whelp, who shall soon have no mother. The mother who was supposed to be her guiding force and inspiration, to show her the joys of life.
But from the dying embers a new fire shall start, one that heralds a new age. An age of hope and enlightenment for those of dragonkind.
Chapters (1)