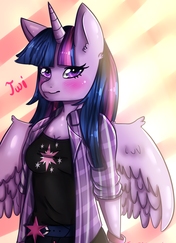 John is your typical teenage guy, went to school, did chores and got a little money for doing so. But he also has a secret love for the show MLP, he kept it secret from everyone and intends to keep it that way.
During an afternoon web surf, he watches an interesting My little pony video that features his favourite pony, Twilight Sparkle. But later on, while he rested, he failed to notice or feel lavender purple fur spread up his body.
If you are wondering yes my Favourite is Twilight. Anyway this is a TG, Anthro transformation story, just letting you know.
This is now a collab!
The story "Aspects of harmony" by kwr2k13 focuses on Kurt's perspective. Here is a link to that story https://www.fimfiction.net/story/361690/aspects-of-harmony
And if you wish to be apart of this collab and become one of the characters, just let either of us know.
Chapters (17)