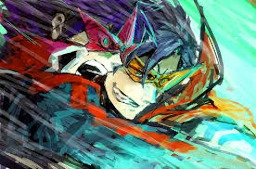 Simone. The Savior of the Universe, Hero of Team Dai-Gurren.
Now a wanderer among the world. When he dies, as an unknown traveler, he reunites with Nia in the void. As they are about to move on, a being of power like no other, Faust, offers them a chance to live again, in a new world. Simone and Nia accept...
And are reborn in Equestria. The two of them will live anew, and pierce the heavens once more.
And Equestria's coming along for the ride.
====================================
Gurren-Lagann Crossover, takes place after the ending of the series.
Will feature romance, action, and MAYBE (Implied) sex between two characters.
Chapters (6)