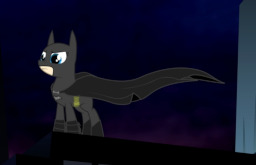 Source
After a diagnosis of terminal illness, Thunderhead the bat pony is dejected and lost. But when a strange substance claiming to be a symbiote of some sort bonds to him, he gains all manner of incredible powers. Taking the name Steel Renegade, he takes to the streets of Phillydelphia, determined to rid the city of gangs and crime. But it is no mean feat in a city of gangs and corruption, and as he continues with his quest, he will have to use every ounce of cunning and power he has not just to succeed, but to stay alive...
(Sorry about the cover art. It's the best I can find without requesting a commission.)
EDIT: Chapters 1 and 2 edited to fit the tone I wanted to set and to NOT be a blatant rip-off of Deadpool.
Continuity: Equestria 223
Chapters (3)