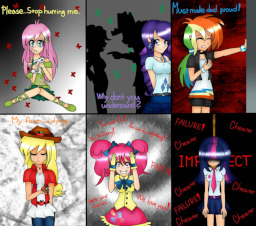 Source
Over ten years ago, there were six teenage girls who all went to the same school and died on the same day: November 7th 2004.
These girls were Samantha Gales, Janise Walters, Alexandra Matthews, Jamie Sanders, Katherine Jackson, and Cynthia Little.
Kimberly Rooney is an amateur police detective who wants to know why these girls died on the same day. With the help of her friend Tommy Elbin; friends, family, acquaintences of the girls are interrogated in order to uncover the truth.
Will it be a success?
90% told through flashbacks, hear these girls's stories and find out about their lives and what led to their tragic deaths.
Credit to KikiRDCZ on Deviantart for the cover photo.
For those who don't know the original theory, here is a YouTube link to a reading:
https://www.youtube.com/watch?v=iRksdco4PBI
Also:
If anyone is or knows anyone experiencing what the girls went through:
SUICIDE HOTLINE
1-800-273-8255
RAPE CRISIS HOTLINE:
1-800-656-4673
CHILD ABUSE HOTLINE:
1-800-422-4453
Chapters (2)