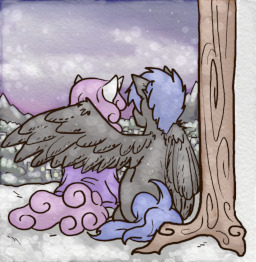 Source
A year after the first Hearth's Warming, unification hasn't gone as smoothly as ponies would have hoped. Old grudges and hostilities flare up despite the best efforts from their leaders. By the time the second Hearth's Warming has come around, cold, bitter feelings claw once more at Princess Platinum's heart.
Things take a turn for the weirder when she finds a tree in her living room and Commander Hurricane in her kitchen. He promises that there's a simple explanation for everything.
The only catch is that the 'explanation' will take all night. Generous though she may be, Platinum can settle for two hours.
The clock is ticking, Hurricane.
Written as a Christmas present for Fahrenheit, posted now after giving time for Farrie to savour it first.
Cover art by Rossby Waves.
Preread by Carabutt.
Chapters (2)