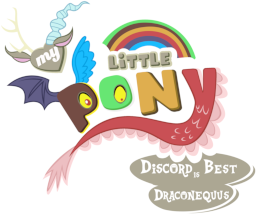 Source
This story is a sequel to Who is Grand Heist?
---
Thousands of years ago, two princesses defeated a powerful being and became more than what they were. Now, thousands of years later, the enemy they imprisoned has been freed.
Discord is more powerful than any enemy they have fought before, but surely Rainbow Dash (Element of Magic), Pinkamena (Element of Honesty), Applejack (Element of Loyalty), Twilight Sparkle (Element of Generosity), Rarity (Element of Kindness), Fluttershy (Element of Laughter) and Spike (Voice of Reason) can defeat him.
If the world doesn't break first....
Chapters (5)