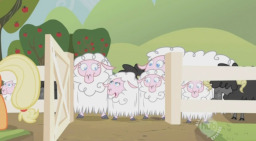 Source
"You coulda just a-a-a-asked."
Applejack had many chores to complete with Applebloom before the Sisterhooves Social. It probably would have been less work if she just asked the sheep to go through the gate themselves, right?
May contain spoilers for the Sisterhooves Social episode, but I'm pretty sure you've all seen it already.
Chapters (1)