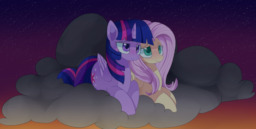 Since the day they met Fluttershy couldn't stop thinking about Twilight sparkle, she was always shy (it was in her name) but around Twilight she was even more so, she tried hard to confess but fell short of speaking her mind. She didn't think Twilight would feel the same or even be into mares, but now she decided to say "enough is enough" she would tell the one she loved the truth.
One shot romance story
This is my first story I've done that is solely romance and peaceful, so don't expect anything amazing here. But nonetheless enjoy it.
Chapters (1)