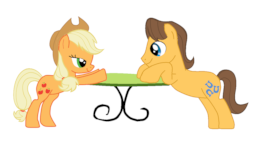 Source
Caramel had always dreaded Hearts and Hooves Day. This year merely reinforced his opinions.
He never seemed to hold onto somepony for long. He had no idea until today that a relationship could be made and broken in one day.
Broken, he returns to Sweet Apple Acres in his habit of saying his goodbyes until next week. Also to once more think on what could most likely never be between him and a certain cowgirl pony.
He had no idea what awaited him once he opened the door.
Image created by asdflove on DeviantART and used with permission.
Chapters (1)