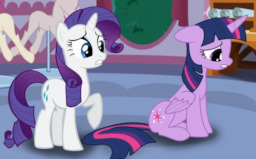 This story is a sequel to Impossible Chance
---
Exhausted from a long train ride, Twilight Sparkle did something she thought she'd never have the courage to do. She told Rarity she liked mares and that she had a crush on one specific mare. The admission that Rarity was the target of her affection just slipped out and Twilight was absolutely certain she had destroyed her friendship.
Instead the impossible became reality when Rarity offered Twilight Sparkle a chance even though she has never been attracted to mares. Can a relationship that seems like an impossible dream survive the trials brought on by reality?
Twilight x Rarity sequel.
Chapters (2)