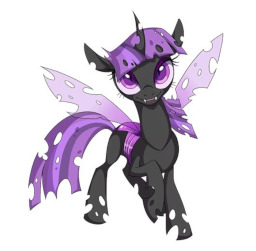 Source
I am a changeling, unlike other changeling, I was born with a purple mane, tail and wings. However, ever since the Canterlot Invasion, I was forced to flee the changeling hive with my friend Thorax. With Thorax, We went to a place call Ponyville, where hopefully we will be accepted for who we are. Follow me, as I go through the challenges ahead of me and discovers some of Equestria's dark past.
Note: This is an OC story
This is set before season 6 finale. Any continuity errors will be accepted as part of an alternate Universe.
The cover art is used without permission, it will be removed if requested.
Chapters (20)