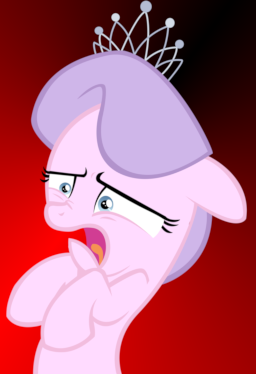 Hello. If you're reading this, you somehow found my message. Hopefully you are a fellow Brony, and will not simply assume this is the insane ramblings of a crazy person.
Oh, I suppose I should introduce myself, this story is about me, I guess. The name's Cain. Nice to meet ya.
Now, getting to the point of why I sent this out. Ya see, a few months ago, I had a rather unsettling experience. My mind was ripped from my body on Earth and transported to wherever it is our beloved Equestria lies. Normally, this would be nothing to worry about, as it seems to happen all the time, but frankly, this time was different. Instead of being sent to Equestria as a human, or nay, a pony, my mind was placed inside the body of an Equestrian.
Unfortunately for me, it happened to be Diamond Tiara.
Looking for Co-Authors!
Former-HoneyHoneyHoney
Current-Pinklestia
Helpers-Hoopy McGee,CloneBurner, RemareShadows,
shagohad12, Dusty the Royal Janitor
Yeah...not what I was expecting either. Now, quick, before the message fades, get me some help!!
Inspired by Hoopy McGee's Why am I Pinkie Pie?!
Chapters (20)