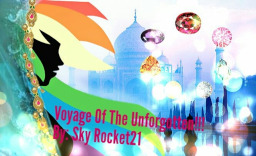 Do you ever wonder who you truly are on the inside of your heart?
Or think you can't do anything without hope? There is hope. Hope comes when you find who you truly are!- Sky Rocket
~~~~~~~~~~~~~~~~~~~~~~~~~~~~~~~~~~~~~~~~~~~~~~~~~~~~~~~~~~~~~~~~~~~~~~~~~~~~~~
WELCOME VOYAGERS!!!! This is the beginning of a new journey! Long time ago, in the city of Chennai, there lived a beautiful woman who's heart was pure and loyal to all and her husband was the strongest, bravest soul that ever lived. Together, they were unstoppable! One day, they were both blessed with an adorable baby. Her skin as blue as the calmest sea, and her eyes as magenta as the sweetest rose. They named her Rainbow Dash. As time moved on, Rainbow Dash was going to rule over India with pride so her father only looked at his future and saw his daughter being responsible, but Rainbow Dash didn't want to do such things! She wished what every girl borned in India desired. The ability to fight! Rainbow Dash meet friends along her way and her favorite, Soarin Skies! Their friendship was unbreakable but as time passed by, the royal family took a deep path down a terrible road and Rainbow Dash was never seen in India again....
~~~~~~~~~~~~~~~~~~~~~~~~~~~~~~~~~~~~~~~~~~~~~~~~~~~~~~~~~~~~~~~~~~~~~~~~~~~
6 years later, Rainbow Dash hasn't seen her friends and family ever since she moved out of India. When Rainbow Dash comes back, everyone reunites with her and she discovers her life as an Indian princess. As Rainbow Dash goes out and seeks her destiny, there's a secret beyond a very special legend that is kept in a cave that hasn't been found in 1,000 years. This cave is called "The Cave of the Unforgotten." There Rainbow remembers who she is and has been given a powerful aquamarine that was harnessed by powerful goddesses that once ruled the lands in India 1,000 years ago. Each goddess receives a gem that resembles who they are. Rainbow Dash will find her true destiny as she faces dark challenges with her "partner in crime" and her group of happy friends. But when an evil Lord tries to use the aquamarine for evil powers and destroy India, will this stop the young voyager from persevering? And will she find the true treasure that beholds this gem?
Cover Art by:princessFireShiner
PLEASE DO NOT STEAL OR COPY ANY OF MY STORIES!! I WILL REPORT YOU!!!
Chapters (51)