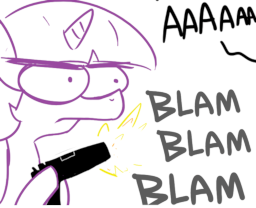 Everyone knows that making friends is hard. Keeping them long enough to defeat several evil villains bent on world domination, and a few ponies who are just jerks, with nothing but the sheer power of friendship and good feelings is even harder.
Wouldn't everything be easier if you just had a gun?
Let's find out.
Coverart and the concept as a whole is from that guy named tjpones, go look at his stuff.
Chapters (4)