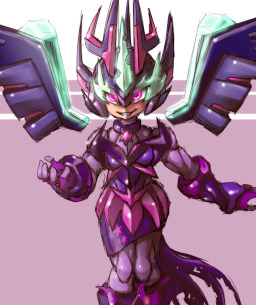 Source
M. E. G. A. SYSTEM: ONLINE
SEQUENCE: START
With the advent of magic, humanity dared to dream of an era where peace and prosperity were a reality. Unfortunately, war is a habit not so easily broken, and all the ideals of love and tolerance merely served as paving stones on the road to hell.
The world ended 200 years ago.
Zero's life is defined by constant fighting. In a land where where survival is the product of tenacity and death is only staved off by stubbornness, he and his fellow Hunters have carved a place for themselves between the feral wastelands of the Old World and the suffocating Enterprise of Neo Arcania. Little more than a band of hired guns, their employ typically involves chasing mechaniloids away from homesteaders or even dissuading the occasional raider group, but every once in a while it means escorting a prospector into the wilds to hunt for pieces of old-world technology.
Prospectors like their latest client, the enigmatic Doctor Xiel.
Chapters (4)