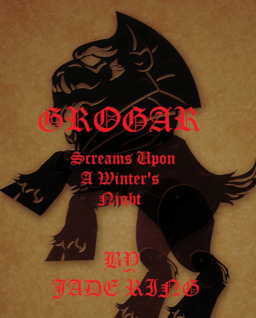 This story is a sequel to Grogar: A Hearth's Warming Horror Story
---
Eight years have passed since that terrible night
and Equestria still counts the cost,
When the winds did blow and the bells did ring
and all but four were lost.
The truth of that night was covered up.
At royal request, three lied.
One, though, told her story true
about how her family died.
Three have moved on, content to live,
to forget that horrible night.
The one who stayed true is locked away,
crowned with a mane of white.
The nightmares of foalhood fade away
but never truly depart.
They lurk within us, tucked inside
the deepest recesses of our heart.
A cold wind blows from Tambelon,
the bells again do ring.
The Windigoes roar and bluster and rage
awaiting orders from their king.
The four survivors will reunite
for a lesson must be learned;
it doesn't matter how old you are
now that GROGAR has returned...
Chapters (4)