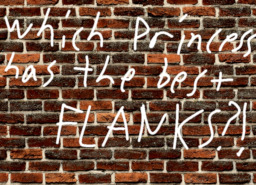 It was a nice autumn evening. Twilight Sparkle, Celestia, Luna, Cadence, and Shining Armor were casually walking down the streets of Canterlot when they spied an interesting graffiti poll on a wall.
"Which Princess has the best flanks?!"
The results of the poll confuse, sadden, and start rivalries among the princesses.
---
Just some late night silliness. Have a wonderful autumn!
Chapters (1)