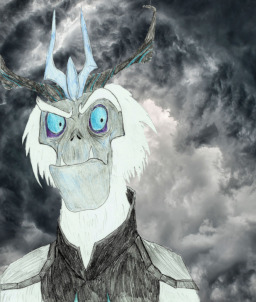 Source
The Storm King, conqueror of nations, notorious warlord, and the one responsible for the recent attack on Canterlot...is defeated. Turned to stone and shattered.
But is he truly dead?
As it turned out, not exactly. Even in a broken and crystallised state, he's still alive...and he still dreams like any other being, making it possible for another former conqueror of Equestria to visit him there and see what it truly is he desires.
Is he nothing but a power-hungry tyrant or raider, seeking power and wealth only for the sake of his own ego...or is there something else that drove him to invade and plunder the Southern lands as well as Equestria?
Can a creature as vile as the Storm King ever see the light and come to terms with what he's done...or is he simply a lost cause?
These questions will need to be answered before a very important decision could be made: should the ponies of Equestria bring him back to life...or not?
Chapters (3)