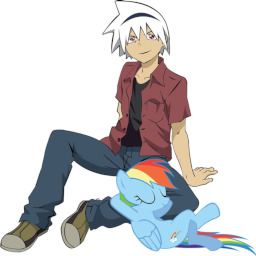 Soul Eater Evans is a Weapon at the Death Weapon/Meister Academy (DWMA, for short) and has had a few month break after the defeat of Asura, the Kishin of Madness. Soul and, his Meister, Maka get a special assignment from Lord Death himself. Unfortunately, it ends up with Soul landing in Equestria.
So, what is a Weapon suppose to do without a Meister? What are these ponies doing here? And why is Medusa the Witch now a pony?
----
Thanks to Madara XIII for editing what I have so far.
Another big thanks to Gunsmith for being so helpful as being my new editor. Check out his story, though. It's amazing. :3 Love you, Gunny<3
----
Cover art by moi! Oh, thank you, myself! Haha!... I'm so alone...
----
Side note: I'm adding characters as the story progresses. I'm not sure who I all want in it, at first. So, we'll see where it goes!
Also: Note that there are a lot of references to 'breasts' in this fic. Due to the nature of the wonderful show. Enjoy!
If you wish to watch Soul Eater and get all the references or understand how this story works, then go here:
Soul Eater: All 51 Episodes
Chapters (16)