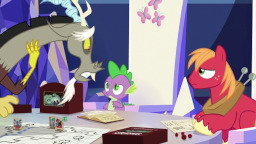 A dragon. A draconequus. And a.......a dude.
The Mane Six and Starlight Glimmer have suddenly gone missing. As a matter of fact, all the ponies are starting to disappear.
With monsters wreaking havoc, criminals on the loose, and ponies disappearing, Equestria is in desperate need of heroes.
Spike, Big Mac, and Discord, all answered the call as they travel all over Equestria, fight monsters, send criminals to jail, to find their missing friends.
---
Thanks to Rated-Ponystar for helping me with this story.
Rated Romance for some Fluttercord moments on Discord's part.
Rated Drama for Discord's antic.
Co-Author: Needed
Editor: Needed
Chapters (10)