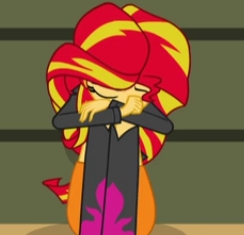 This story is a sequel to Being Honest With Yourself
---
Sunset Shimmer is feeling especially bad about herself after a rough day in detention, and just when it seems like things can't get any worse, Fluttershy discovers her at her lowest and learns something about her that she'd been trying to keep secret from her friends. The worst part though? She's being so nice about it. It's far more than she feels she deserves.
Fortunately, Fluttershy's not about to let her turn down the help she needs.
Set between the first Equestria Girls movie and Rainbow Rocks. Part of a series of fics I've been working on about Sunset's early days learning how friendship works, which starts with my previous story Asking a Favor. Can absolutely be read as a standalone though.
This one deals with some slightly heavy subject matter. Nothing to warrant a rating higher than E though.
Chapters (1)