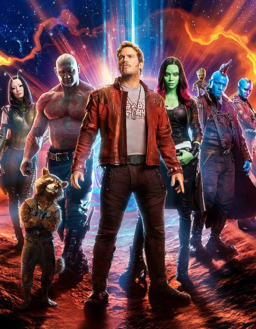 (This story is part of the shared Marvel/MLP universe created by this guy.)
Derpy was only trying to deliver a box of fireworks (that were due for transport days ago) to somepony by the last name of Lulamoon. As it happened, the pony turned out to be a really famous showmare and she didn't seem very happy when she arrived in the middle of the night, though the oddly emotionless mare beside her...well, she wasn't sure. Anywho, Ms. Lulamoon wasn't mad at Derpy; a really big metal bird thing demolished her home when it fell out of the sky, and she was really bent on finding the owner and giving them an earful. In her defense, Derpy didn't know she stepped on any buttons inside the blasted thing; nopony should leave stuff like that for a mailmare like her to step on. But then they were suddenly in this giant black space and Equestria had completely vanished. Then the showmare got angry at her. The other pony? She just kept staring blankly.
Lucky for them, these cool alien creatures came out of nowhere and offered to get her home once they finished a job they had to do. See, they're apparently Guardians of the Galaxy or something like that, and they help out folks in the galaxy. So, Derpy naturally assumed that they'd just tag along for now and they'd be home in no time at all, where she could finish her delivery andjust maybe keep her job!
Then the talking raccoon stole a few batteries from these golden people, and everything went downhill from there.
Like,way down. Like falling of a cliff into an endless void-down.
Chapters (21)