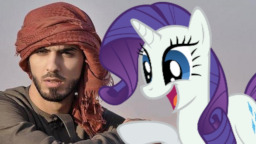 Rarity has a little secret.
She keeps a creature up in her room, and likes to use him to relieve her stress after a long day at work. The creature doesn't seem to mind his role, and he even enjoys it sometimes.
Then, Celestia comes in, demanding that the creature be given to her.
A fun little story about scratching and indulging yourself in muscles.
Edited by Eagle and 0050005!
Chapters (1)