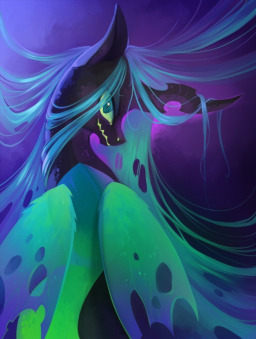 Source
This story is a sequel to Took things too far
---
No matter which way you take and no matter the mistake, there is no way to switch back.
Thorax and the new changelings, lovingly dubbed 'Abstergo Species' by themselves, had trouble adjusting to their new forms and societal impacts, but that was in the past. Now they even have some younglings going to a school of friendship, proving that changelings HAVE changed and for the better.
Well, Chrysalis' brood, at least. They weren't aware of other hives, and with the rumors created by an old fool, many adventurers went on to discover potential new hives...They never came back. Chrysalis is now in a precarious situation where she could be aided with her vengeance, but have dire consequences should she fail again. The other queens aren't too pleased either, and with such aggression and potential bloodshed, the red hive isn't too far off.
---
Check source for art. This person has an amazing art style and coloring methodology.
Chapters (5)