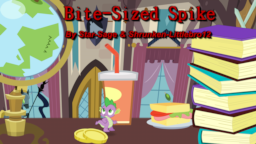 In spired by Autismo555 FanFic. Snack-Sized Sweetie.
A collab with Star-Sage. Taking place before the episode 'The One Where Pinkie Pie Knows'.
During another stressful Grand Summit Twilight Sparkle while taking a much needed nap accidentally shrinks Spike down to size. Now at his tiny size the tiny dragon must find a way to get back to his normal size and survive the new gigantic world.
Chapters (10)