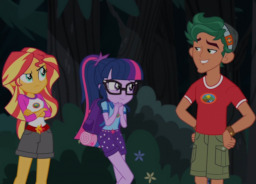 Twilight Sparkle and Timber Spruce have been dating ever since the events of Camp Everfree.
But some time later, Twilight asks Sunset Shimmer to meet her in the school lab. Because Twilight has relationship worries—lots of them, and Sunset's the only person she trusts to help.
Part of the Montage Cinematic Universe.
Edits: nanashi_jones
Chapters (1)