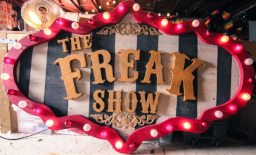 Source
Warning: The following is not only unedited, but it contains mentioning of foal abuse, freak shows, and a dark interpretation of the childhood of Celestia and Luna.
---
Come one! Come all mares and gentlecolts! Have you ever wondered about why you've never heard of Princess Celestia and Luna's childhood? Do you know how they came to Equestria, and how a young Starswril the Bearded saved them from an abusive, sadistic and the most shocking circus in history? Well, come this way! We have for you a secret chapter from the memoir of that wizard himself. One in which Celestia had banned from publication.
So why would the Princess do that? Come right in, if you want to find out.
---
Author's note: This is both an interesting experiment in style and something I wanted to contribute for the occasion of the month of Halloween. I do hope that you would enjoy what I have.
Chapters (1)