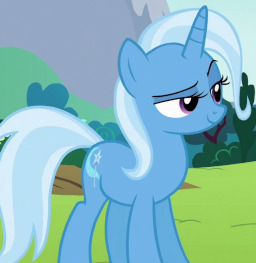 This story is a sequel to Lily Flowers The Wrongly Accused
---
Disclaimer : I strongly advise you read the other stories in the series first if you want to understand any of this.
Now escaped from Canterlot dungeons, Lily Flowers and her rag-tag group of troublemakers set out towards Ponyville to seek out revenge. All while being pursued by a power-mad Mayor, the royal guards and perhaps the worst of all, a cockney colt and his extremely loud best friend.
Trixie isn't that bothered however, she's too busy trying to win the heart of her unwilling soulmate, Night Light. And she's determined to do so, no matter what the world throws at her, much to everyone else's dismay.
Chapters (1)