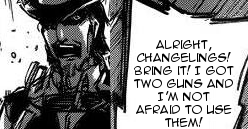 This is a short story chronicling how Niko "Sid" Zoloto, a Displacer, chooses a world for his Displaced to go to. He surveys the area and wonders if this will be a good place to displace them. Niko's criteria is simple: the world has to be dangerous, but not too dangerous so as to give the Displaced a fighting chance.
He decided to scout the Changeling Empire to see if it's a good enough place. I mean, he's heard the tales of how Changelings are evil, baby snatching, love eating monsters so why not use that for his next place? What could go wrong?
Well, let the spoiler warning for the Season 6 Finale give you an idea of how well that goes.
Chapters (1)