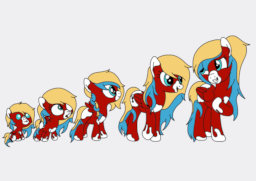 RedVelvet Melody and a bunch of her friends, including well known Bronies/Pegasisters Vanilla Mocha, Galaxy Nebula, and Fallout, go through the memories of the old times to figure out where everything went wrong and right, but as they do this, old scars are opened and secrets are revealed. But under all of this, something is quietly ending their lives...
So does their time truly leave them? Or was the time never there's?
This is an OC story, so healthy criticism about anything is something I'd very much appreciate.. There will also be a lot of references you may not get, so like the great Doctor said....Google it!
Chapters (5)