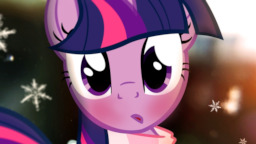 Source
Twilight, while enjoying a good book in a nice blanket while a blizzard rages outside, suddenly finds herself the recipient of a very strange and off-putting text message from her friend Rainbow Dash.
She's not sure how to respond to such a... "forward" message.
A little silly winter fic. Cover pic from here.
Chapters (1)