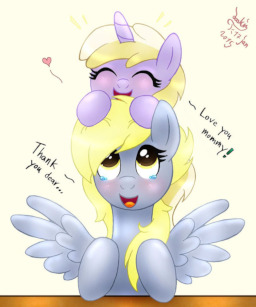 Source
How does a pegasus explain flying to a unicorn?
How does a unicorn explain magic to a pegasus?
Questions pondered over haycakes between a mother and her filly.
I'm sorry If I got the interaction between Dinky and Derpy wrong. My mother and I have the most toxic relationship in existence, which makes writing a loving mother kinda tough since I've never had one.
Also, the cover art is a bit misleading, as the story is Anthro.
Chapters (1)