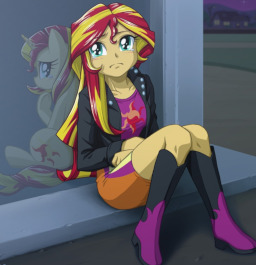 Source
This story is a sequel to Sunset's Overdue Paper
---
Warning: Contains spoilers for events in Equestria Girls: Legend of Everfree!
Experiencing pangs of uncertainty after the events at Camp Everfree, Sunset Shimmer again reaches out to a mentor for advice.
She may find herself unprepared for the answer she gets.
Cover art by uotapo @ DeviantArt.
Inspired by the content, and lack thereof, in Legend of Everfree. If DHX seems content to abandon the cut content that is Sunset's homesickness, that doesn't mean I am.
Chapters (1)