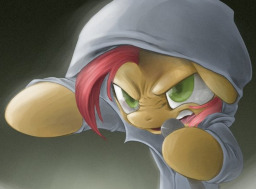 Source
After leaving Ponyville Babs tries to start over. She creates a whole new CMC club, gets better grades and even make friends.
That's until her life went to shit.
A stallion that was supposed to be her was father now out of prison, moved them down to the slop bucket of Neightroit so he could be closer to his "friends".
Now left with no friends, no cutie mark, a new school, and her father now living with her and her mom, she can only do one thing.
Rated teen for: Extreme Language, Adult themes, and minor Sexual Refrances
If this makes you uncomfortable please dont read or dislike without a comment. Thank you
_________________________________________________________________________
Based off the movie "8 Miles" and this image
My Beautiful Editor: DragonHistorian



Thanks for reading

Chapters (2)