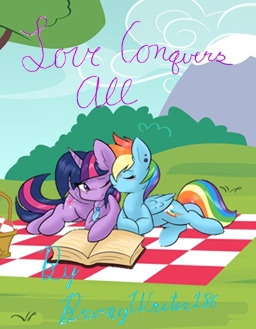 Rainbow has loved Twilight since she first saw her even though she looked like a complete egghead, and her getting wings only made her even hotter, but what she didn't know was that Twilight loved Rainbow since first sight as well. After Rainbow finally gets the guts to ask Twilight out how will she keep them together?
(** next to the chapter's title means that the chapter has been updated(if I update it again I'll add a star to the end))
*Sex Tab is in there for mentions of sex, without descriptions of it.
*The Other tab has replaced Spike, Cadence, and Shining Armor to have Spike, Shining Armor, Princess Cadence, and Discord, and others, because I can only have 5 characters max.
*This takes place 2 years after Season 6 Episode 16 "The Times Are A Changeling" and ignores all events that happen afterward(in the show)
*Pregnancy is based on a normal human pregnancy length(not a pony pregnancy length)
*The alternate universe tab is there due to everything past S6 E16 in the show being vastly different than what happens in this story.
*Some other stories that I have read are referenced, or even implemented, in this story, these stories include the entire Bride of Discord series (by DisneyFanatic23), Spellbound Fireflies(by bats), Twilight Gets A Puppy (by TDR), others may be included later
My grammar editor is Knight N Gale and some of my family members; currently.
Chapters (8)