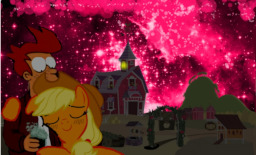 Source
I Love Saturday-nights...
Hanging out with your best pal on the sofa,while your drinking alcohol and watching Tv.
And the next time,you'll wake up in a barn...
Meeting an Cowgirl-pony,that is confusing as hell,have to do chores and work like a pig...
Is this a punishment...or is this an reward?
Chapters (1)