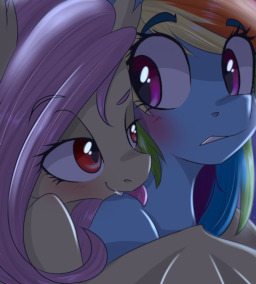 A retelling of the ending of "Bats!". Twilight's spell was able to help Fluttershy get her mind back...but unfortunately, she's stuck as a batpony for the rest of her life! Naturally, Fluttershy is distraught, but luckily, her lifelong friend Rainbow Dash is there to help her get use to the change...while also unable to get over how hot she thinks Fluttershy looks now!
My entry in the FlutterDash writing contest.
Cover pic by Silbersternenlicht.
Chapters (1)