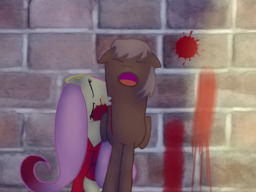 Source
Author's Note: This story contains Vamponies and therefore there will be some blood. Just a little warning for the squeamish.
Love is a difficult thing, something that Wondering Wind knows all to well. He is in love with a beautiful mare named Crystal Clover, who is one of his fellow college students. So what is the problem you might ask? Well for one thing Wind is a pegasus from Manehattan and Clover is a crystal unicorn from the Crystal Empire, who is currently only living in Manehattan to pursue her career.
After suffering from a terrible heartbreak, Wondering Wind finds himself in the Manehattan subway system to discover an injured mare on the floor in a pool of her own blood. Wondering Wind attempts to help the mare and as a result his life is changed forever.
A long time ago Twilight Sparkle become an Alicorn princess, but the realization of her immortality was bittersweet. Not wanting to lose her friends, Twilight attempts to find a way to save them. However, actions of this kind always have dire consequences.
As our characters attempt to live, how do they deal with the aspects of immortality and undeath?
---Author's Request---
I have one request of my readers. If you favorite, up-vote or down-vote my story please leave a comment informing my why.
This especially applies to people who favorite my story as I want to know what you enjoy about the story so far.

As for the people who hit the down-vote button, rather then just hitting that button and running away like a coward, how about you give me your reasoning. It is difficult for an author to improve without feedback.

---Credits---
Author: Robipony (me duh

)
Cover Image Artist: SharpNote the FABULOUS
Editor: Colt Bolt
Supporting Editor(s): Hans Krebs, TheQuiet_1 and Aussie Hard-Dick
Proof Reader: LoneUnicornWriter
Chapter Separator Bar created by: Robipony
Chapters (9)