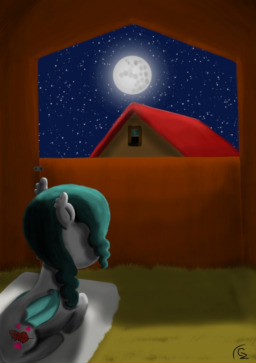 Nightshine always wanted to leave the orphanage, but she never thought her life would turn out the way it did. Her adventure to earth has left her full of wonder and awe, now she lives in an isolated Amish town that she calls home, She has a loving family and everything she ever wished for when she was an orphan, but when she learns about the outside world, curiosity takes over.
This is a strange Alternate Universe spin-off from the Main Nightshine story and I hope Its enjoyable!
This is a submission to the Nightshine story contest.
Nightshine and Serenity are both The Abyss's OC's. and apart from some other small things taken from The main Nightshine story, the rest is made by me.
Wonderfully proofread by PeerImagination (thanks a lot btw)
Chapters (4)