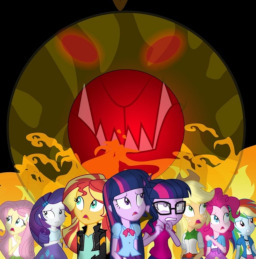 After all of the adventures they have been through thanks to the presence of magic in their lives, the Rainbooms are more than ready for some much needed R&R, especially with Canterlot City's 200th Anniversary fast approaching. In the midst of a week of games and special events leading up to the big day, Fluttershy hopes to raise awareness of the needs of rescue animals, Applejack plans to promote her family business, and Pinkie Pie and Rarity are both asked by the influential descendant of their beloved city's founder to help prepare a big final event set to take place at their own school! Sunset Shimmer, meanwhile, is eager to continue her research on how Equestrian magic operates in the human world alongside her newest friend, the human Twilight Sparkle. Nothing, not even the antics of an abrasive student who resents everything the Rainbooms stand for, can ruin their mood.
Unfortunately the fun and games must be put on hold when they discover a dark figure who wields a new kind of magic that is more dangerous than anything they've faced before. When they call in Princess Twilight Sparkle to help investigate, she reveals that it may in fact simply be the tip of a much greater threat. The Rainbooms will need to pull out all of the stops in order to defeat this new menace. But can even the Magic of Friendship conquer a force created specifically to counter it, or will a new magic be needed to overcome the power of pure rage and destruction?
Edited by GirlOfManyFandoms.
Cover art by PaulySentry.
Check out the TVTropes page.
Chapters (1)