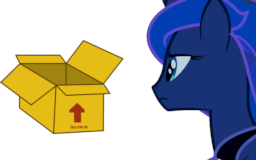 Princess Luna was looking forward to seeing the changes in Equestria since her banishment and Nightmare Night seemed like a good place to start. Unfortunately, fate had other ideas and now she finds herself stuck in Tartarus-knows-where with an insufferable slob of a creature known as a human. Worse, he refuses to tell her how he knows her name and threatens her with the box if she misbehaves.
At least until Saturday, or so he has promised.
---
Rated Teen for Language.
---
Originally one of my emote prompt stories, now expanded upon.
Chapters (3)