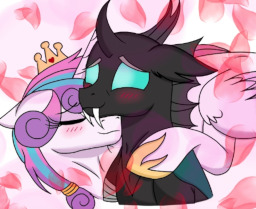 Thorax couldn't explain it.
When the newest princess of the Crystal Empire was born, he felt a natural pull towards the ceremony.
Of course, the fact that the protective barrier surrounding the empire broke helped; he was able to slip in unnoticed.
Once his name was cleared with the Crystal ponies, Shining Armor still had his doubts. He proposed to keep Thorax disguised as Crystal Hoof, in case their subjects were to arise with questions, or run away out of fear.
Flurry Heart and 'Crystal Hoof' become close friends... both begin developing and feeling things for the other. Is friendship really enough for them?
---
Featured 9/16/16!
---
---
Inspiration from the cover art by PimpArtist101.
Chapters (8)