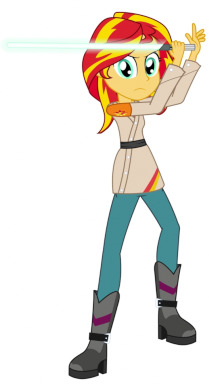 Source
"Once you start down the Dark Path, forever it will dominate your destiny."
For thousands of generations, the Jedi Knights fought against the call of the Dark Side and have strived to rid the Galaxy of its influence. And while the Fallen Jedi Knight Sunset Shimmer has been rescued and accepted by her new friends, the road to redemption is not an easy path for one who has been tainted by the Dark Side. Thus, Sunset Shimmer will embark on a journey to the deepest regions of the galaxy, a quest to not only forgive herself, but to discover about the very mysteries of the Force itself.
---
An AU story based on Amante Animation's amazing crossover of Star Wars and Equestria Girls: Duel of Fates.
As an AU, this tale primarily relies on the events of Episode 1 (as my story was developed before Episode 2 came out, so discrepancies between the two episodes will exist as a warning.)
So come, let us take a journey to a long time ago, in a galaxy far, far away....
---
Current Coverart by Amante56.
Proofread by LanceOmikron and SetoKaiva
Star Wars Belongs to Lucasfilm and the Walt Disney Company.
My Little Pony: Friendship is Magic Belongs to Hasbro.
SW/MLP: Dual of Fates Belongs to Amante Animations.
Chapters (2)