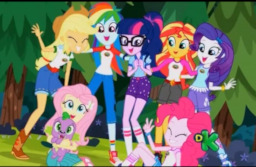 It's another year when Canterlot High goes to Camp Everfree for the second time. Everyone's excited, but one girl is particularly excited. Rainbow Dash is very excited this time around. And, she hopes for more awesome games and she hopes to meet new friends.
This year, there are 2 new camp counselors. Fleetfoot and Soarin. But, only one of them, is very excited, aswell. Soarin Skies, is a very athletic, handsome, and strong boy and he hopes to meet new people and he tries to make a friend.
When Rainbow Dash and Soarin meet each other, their bond becomes strong. But, when there's a problem, between Fleetfoot and Soarin that noone can fix, will there be a way to help the two cousins or will they forever be broken?
A screenshot from the movie, Legend of Everfree! And SPOILERS FROM THE MOVIE!!!
PLEASE DON'T STEAL OR COPY ANY OF MY WORK!!! I WILL REPORT YOU!!
Chapters (19)