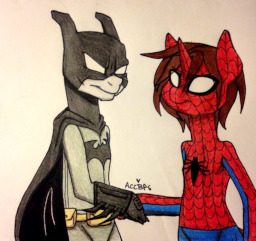 Source
This story is a sequel to Spiders and Magic: Edge of Time
---
inspired by the Spiders and Magic series started by Maximus_Reborn
---
A few months have passed since the Spiders foiled Walker Sloan's plan to rule Earth and Equestria, and all was calm. Miguel, Kaine, Ben and Eddie have decided to live in Equestria until they find a way back to Earth.
But once again, the peace is ruined by the arrival of a new group of villains, not from Peter's world, but from another: The Legion of Doom, led by Lex Luthor.
With villains on the rise and Equestria victimized, Spider-Mane must reunite with some old friends: Wolverine and Batman, who managed to escape, and save the heroes under mind control. But there is one question on everyone's minds.
Where is Superman?
Chapters (47)