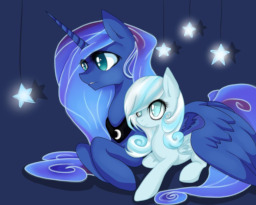 Source
I can't do this without you . . . I wonder if you miss me, too.
I will always be there for you.
Pegasus Snowdrop and alicorn Luna. Filly of the Snowflake and Princess of the Night. They were the closest and best of friends. So why did she have to leave her?
Princess Luna loved Snowdrop like she would a daughter. Like a second mother. She was always there for the little pegasus, and Snowdrop was forever there for the Night Alicorn. Until she wasn't.
Each and every winter night, as she raises the moon and fills the sky with stars, Luna thinks of Snowdrop, the one and only pony who ever truly understood her night. And now she's gone.
Why did she have to go?
Chapters (1)