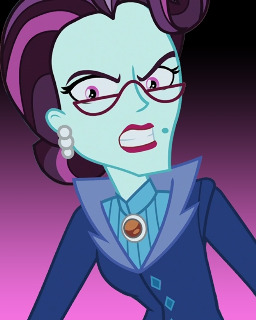 This story is a sequel to She's Awful
---
The original cover "art" is here for whoever might wish to see it.
---
After Principal Cinch reads an article about the state of things at Canterlot High (written by one of her students), she realizes that magic is spreading from the portal to Equestria. It's a sinister, mind-controlling force that must be stopped for the good of everyone.
Her goals justify being selective about honesty, but one has to be wary of believing their own lies. Especially when they tell so many.
Can Cinch figure out the truth? Can she keep control of her school? How did she become the woman she is? Why are there three strange girls trying to get into Crystal Prep in the middle of the semester?
Actually, that last one is probably entirely unimportant.
---
Once again thanks to Vikonaut for the incredibly in-depth, if slow, editing!
Chapters (8)